FREE WEBINAR
Sustainability 101
Introductory course on sustainability and business. Come and get inspired how your company or organization can start their sustainability journey!
Free

1 hour interactive session

Business Sustainability basics

How to get started

Hosted by Johanna Catani and Tuuli-Anna Tiuttu at SDG Monitor

Zoom Webinar
September 27, 2022 at 2PM CET
October 18, 2022 at 2PM CET
November 8, 2022 at 2PM CET
November 29, 2022 at 2PM CET
Register to our next webinar below
If you cannot make it to this one, check all our upcoming webinars in this link
Get insight on sustainability and grow your network in our global webinars!
The Great Acceleration

Key sustainability terms

Triple bottom line and the SDGs

Demo of SDG Monitor tool
This webinar is an introductory course on Business Sustainability.
Come and get inspired how your company or organization can start their sustainability journey!


During our one hour session we will go through
basic things on sustainability and how to get started
key sustainability terms
The United Nations Sustainable Development Goals (SDGs) and other global frameworks
SDG Monitor sustainability performance measurement tool


Get ready to start your sustainability journey today!
8.8 course satisfaction rate!
What people say about our webinars
8/10
"Gave me good insight into the SDGs and what companies are doing to address them."
9/10
"The webinar is a great introduction to understanding how activities across the ESG strategy are linked to the sustainability of an organisation. It webinar touched on a number of frameworks that can be used to measure the ESG activities with a focus on an organisations current status and future plans/targets/outcomes which in turn highlight the journey of an organisation towards sustainability. "
10/10
"The webinar was very informative, I was just information gathering for my non-profit employer because of COP26 happening right now, as well as Wales having a law based upon the UN SDGs called the Well-being of Future Generations Act. Both presenters were very professional and polished, and the demo of IKEA's sustainability data was very useful."
Read more
9/10
"Thank you for the webinar. I felt it was up-to-date and topical and the SDG tool was well explained. I like that you give free and accessible events like this. Good luck with SDG Monitor, I believe you are placed in a crucial space to assist in the shift from linear to circular economy."
10/10
"Very good learning experience!"
7/10
"Thanks it was great. I guess it was a bit general for me (I already knew the SDGs) but it is quite normal since SDGs are quite general per se. Also, I would have preferred to get examples from Company that are really making a difference regarding those issues rather than Coca Cola and Uber which I tend to think are doing greenwashing. But other than that, great presenters and great energy :-) It was also good to hear about your platform / dashboard. Congrats for doing all that! "
9/10
"Excellent presentations and exchange, thank you :)"
9/10
"I joined a while ago. Cannot remember if you had a specific case study to use as an example. Like an invented company and then going through some examples relating to that specific company throughout the webinar to bring it all into context. I have a good knowledge of the SDGs and challenge of reporting but to someone less familiar examples are always great."
10/10
"The meeting was very insightful in terms of briefly explaining the business model of SDG Monitor and the roadmap for drawing a sustainability action plan. The materials used were very helpful in concisely drawing a picture of how to design a sustainability plan and how to implement it in an efficient manner. It was also great to meet Johanna and Tuuli-Anna and to see that they are not only experts in sustainability but also truly passionate about it, which I believe is a crucial asset, especially for companies looking for partnerships with sustainability professionals."
7/10
"Clever approach very well fitted in the short time available.
Would have like to see more pratical cases, but understand that it is important to give attendees a general view of what is in stake (sustainability, key words, GDS explanation, etc).
I found the tool very interesting. "
10/10
"It was such a beneficial webinar for me, as a beginner in the sdg and its reporting, lots of my questions are answered, and i have a road map now, many thanks"
10/10
"Your and SDG Monitor's contribution towards sustainability education is expectational. Thanks for supporting and sharing."
It's fun | It's free | Start your journey today!
SDG Monitor is a cloud-based SaaS tool that helps companies and organizations to measure, manage and communicate their sustainability performance and show its impact. Our webinars are a great way to meet other sustainability experts and change makers and share sustainability practices in different industries.

We welcome students, sustainability specialists, enthusiasts and entrepreneurs of all size companies, organizations, civil societies, events, etc.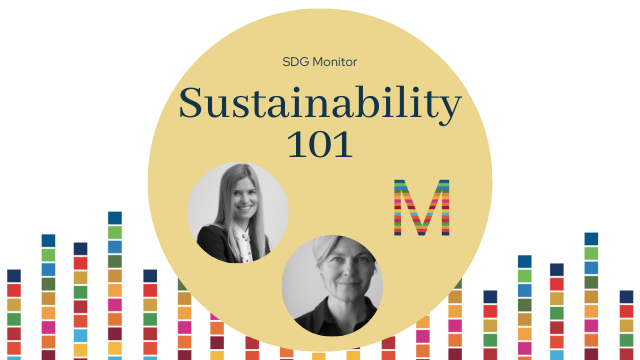 Created with